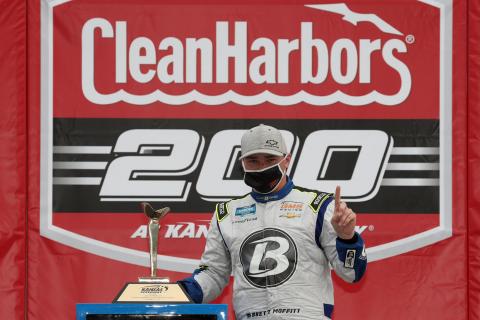 In an exciting NASCAR truck race that came down to a battle between teammates in the last laps, Brett Moffitt won the Clean Harbors 200 on Saturday afternoon from Kansas in overtime.
The win secures a spot in the championship round of 4 for Moffitt – the 2018 trucks series champion.
2018 ARCA series champion and top-seeded playoff contender Sheldon Creed dominated for most of the race before fading in the final laps with handling issues. Moffitt and his GMS Racing teammate, Zane Smith, took advantage and made a charge after the last pit stop. Moffit was able to overtake Smith in the high lane with just three laps left to go. Moffitt subsequently blocked Smith's attempt to cross over underneath and the two made contact – sliding a smoking Smith into the turn and back to the middle of the pack.
Moffitt was then able to hold off Creed after the caution flag that caused an overtime restart to take the checkered flag.
This is the veteran truck driver's 12th series win. It comes after four runner-up finishes and several near misses as of late. The Grimes, Iowa, native is no relation to Performance Plus driver Thad Moffitt.
Seven drivers in the 36-truck field had connections to Clean Harbors:
No. 4 Raphael Lessard, No. 18 Christian Eckes and No. 51 Chandler Smith 
The three teammates drive for Kyle Busch Motorsports – a Safety-Kleen serviced garage. As such, each of the three race with Safety-Kleen patches of their firesuits and Safety-Kleen decals on their trucks. Smith won the pole position before finishing 5th. Eckes followed in 6th. Lessard registered a 33rd place finish after crashing in lap 39.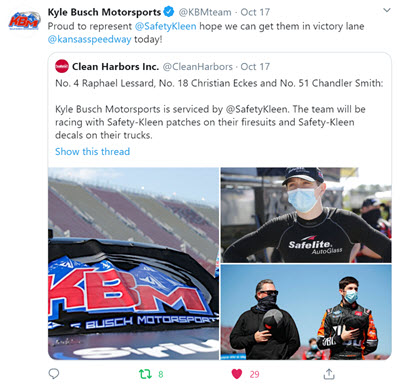 No. 15 Tanner Gray and No. 17 Hailie Deegan 
Two teammates of Performance Plus sponsored driver Thad Moffitt. An up-and-coming and highly marketable driver, this was the 19-year-old Deegan's national racing series debut. It was announced at the start of the race that she would be driving trucks full time for DGR-Crosley in 2021. She's the daughter of X Games motocross star Brian Deegan. Their team, DGR-Crosley was founded by David Gilliland, the former driver of the Clean Harbors Cup series car. Deegan's hard-fought 16th place showing – up from the 34th starting position – is the highest finish from a female driver making her debut in series history. An early wreck in lap 37 left Gray with place 36.
No. 38 Todd Gilliland 
Todd's father, David, drove the No. 38 Clean Harbors car for Front Row Motorsports in 2014. He registered a 13th place finish.
No. 45 Trevor Bayne 
A former Daytona 500 winner, Bayne drove the No. 6 Performance Plus Ford for Roush Fenway in 2017 and 2018. He took 10th on Saturday.
As with all races since NASCAR's restart in May, Clean Harbors disinfected all high touchpoint areas at the track and decontaminated trailers, garages, suites and all enclosed areas. The crew from Liberty, Missouri, was present for the duration of the weekend of racing at Kansas Speedway.
Before the #CleanHarbors200 gets underway! Our friends @CleanHarbors have been leading the charge in decontaminating and cleaning at each race event since May to keep all competitors, personnel and fans safe! pic.twitter.com/AUrddyaOrH

— Kansas Speedway (@kansasspeedway) October 17, 2020
Check out the Clean Harbors Facebook page for a photo gallery of the race and the work our crew did in preparation of the Clean Harbors 200 here.