Overview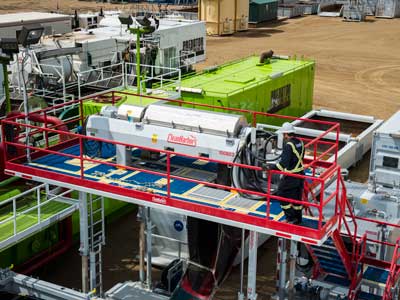 Clean Harbors Surface Rentals are Your Defense Against Downtime™.
When it comes to surface rentals, Clean Harbors is committed to nothing short of excellence. That's why you can be assured of the workability, durability and safety of all our equipment when you pick it up at one of our locations or when we deliver it to you. 
Download Surface Rentals Brochure
What Sets Apart Clean Harbors Surface Rental Equipment?
Well-maintained equipment is available when and where you need it. We pull equipment from the field when needed to ensure our assets are maintained on time and on schedule. Our substantial service infrastructure lets you keep on drilling. With thousands of rental assets throughout western Canada and the United States, we are where you are. We consistently have parts available—always within a few hours' drive of our customers' locations—so that we can keep your drilling program on time and on budget.
Well-trained, responsive technicians improve safety and increase efficiency. Our thorough three-level training program teaches our technicians on every aspect of equipment operations and repair, as well as how to make the right calls in the field. Additional training involves 'shadowing' and being mentored by an experienced trainer. They receive at least 36 different sign-offs before progressing to the next level. Once on the job, our technicians regularly ensure that all of your surface rental equipment is properly maintained, pre-checked prior to delivery, delivered on time, set up and tested on-site.
Well-established systems have a proven track record in the field. We only use industry-leading equipment that consistently helps you complete your job efficiently, effectively and securely.
Well-documented processes provide real-time tracking data in the field. To provide more transparency for our customers and more efficiency for us, our field technicians use a tablet-enabled tracking system, which gives them everything they need at their fingertips.