Daylighting & Hydro Excavation
---
Overview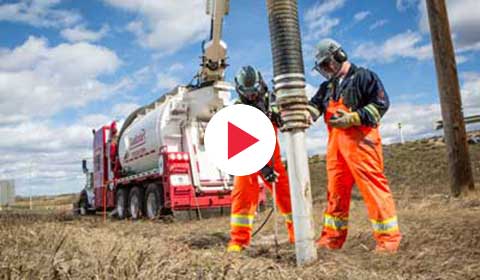 With a diverse range of vehicles and unmatched expertise, Clean Harbors delivers safer, cleaner, more precise hydro excavation (hydrovac) for your excavation needs.
It takes more to achieve great excavation solutions. Our world-class Hydro Excavation services utilize industry-leading hydrovacs, an expert team of certified personnel, a turnkey infrastructure, and an eye for innovation to manage and execute every phase of excavation, transportation and disposal.
Clean Harbors has been a leader in industrial and environmental services for more than 35 years. We apply that vast wealth of knowledge and experience to safely and efficiently solve your excavation challenges.
Clean Harbors and Lonestar West Inc.
The combination of Clean Harbors Daylighting and Hydro Excavation Services and Lonestar West more than doubles our fleet of hydrovacs. Our service area covers the United States and Canada and we offer an expanded range of services.
Lean more about Lonestar West at www.lonestarwest.com
Industries served:
Construction/Mechanical contractors
Utilities
Municipalities and Government
Pipeline companies
Pipeline service companies
Refineries
Chemical plants
Terminals
Services offered:
Hydro Excavation/Hydrovac
Potholing
Daylighting
Pier Holing
Bell Holes
Trench Boxes/Shoring Boxes
Ditching and Trenching
Rig Cleaning
Tank Cleaning
Spill Cleanup
Allied services offered:
Hydro Testing
Hydro Test Water Disposal
Waste Disposal
Pigging
Support Equipment

Portable tanks
Vacuum trucks
Vacuum boxes
Bundled Services Increase Efficiencies
From portable water tanks and vacuum boxes to waste transportation and in-house waste disposal capabilities, our depth of resources enables us to optimize our processes and create savings that we pass along to our clients.
Download Hydro Excavation Services brochure
Clean Harbors is Gold Shovel Standard Certified
The Gold Shovel Standard is a first-of-its kind excavation safety program designed to reduce dig-ins and protect the underground gas and electric system. With safety as its highest priority, the Gold Shovel Standard Certification process was developed to ensure that hired contractors are vetted annually and adhere to the safest excavation standards. For more information, visit goldshovelstandard.org.