Overview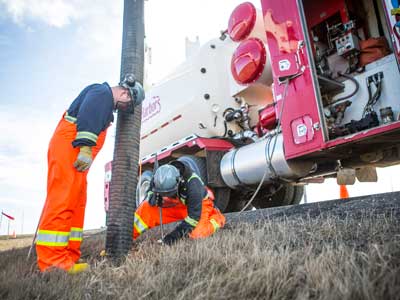 Exposing underground pipes, cables or utilities requires precision and the utmost safety.
In many industrial and municipal settings, excavators often have to rely on their "best guess" about the nature and location of pipelines, utilities, service pits and other hidden obstructions—making conventional manual or machine digging a significant risk to underground infrastructure and the surrounding ecosystem.
Clean Harbors Daylighting services provide an experienced, highly trained team and the right hydro vac equipment to uncover highly sensitive underground materials with ease. Our technology and methodologies surpass those of traditional excavation techniques to provide fast, accurate and safe access—and save time and money.
Compared to conventional hard-edge excavation methods, the Clean Harbors approach to daylighting poses a greatly reduced risk to underground infrastructure. In most cases, our processes require substantially less backfilling and site restoration, eliminating the need for costly repairs.
With a large team of experts, nationwide coverage and vast experience, Clean Harbors provides safer, less damaging and more efficient daylighting services, benefiting both the environment and your bottom line.