Overview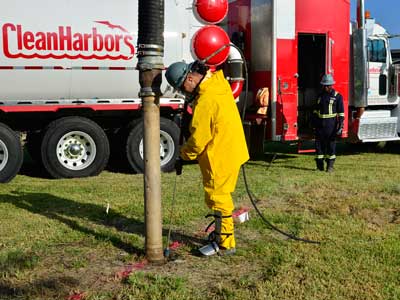 Uncovering, identifying and accessing underground utilities during construction or repair projects requires accuracy.
Using an excavator or backhoe can be a burdensome, high-risk practice because the potential to damage existing utilities can result in costly downtime or a safety hazard.
Clean Harbors Potholing services is a non-mechanical, non-destructive process that provides faster and more accurate excavation to locate and expose utilities or any underground infrastructure. Our potholing techniques utilize various levels of pressurized water and high velocity vacuum to surgically remove the soil allowing quick and easy access to your underground utilities.
Our potholing process also minimizes time and expense to restore the site. Because our process is so precise, we only remove the amount of soil needed to locate and expose your utilities and underground infrastructure with minimal disruption to the surrounding area.
Our team of experts with state-of-the-art equipment are located throughout the United States and Canada and ready to provide you with a safer more precise, less damaging process for locating and exposing underground utilities.