Underground Utility and Buried Facility Locating Services
---
Overview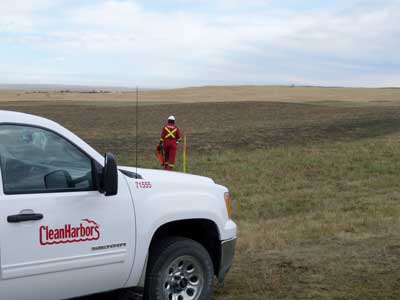 Clean Harbors Line Locating Services provide the pre-planning, project management, locating, GPS surveying and GIS mapping of your underground utility and buried facility lines in advance of your ground disturbance activities.
Each site, locate, and reporting process varies greatly from job to job, yet your basic needs and expectations remain much the same. You need trained professionals that will meet your needs and expectations head-on, time after time, no matter how hard the job is, or where your location is. We employ highly trained and experienced professionals, whose integrity and confidence in their work help us focus on quality, efficiency, damage prevention, safety, environmental responsibility and customer satisfaction.
Clean Harbors has line locators based throughout Alberta to provide efficient and cost-effective response with availability to service Saskatchewan and British Columbia. Our locators are also supported by pipeline database providers whose database searches are produced digitally and transmitted with ease.
Download Fact Sheet (Line Locating)
Services Offered
Oilfield Lease and Pipeline Construction
Private Line Locating
One-Call Management
Wellsite and Pipeline Abandonment
Leak Detection/ROW Inspection
Environmental/Reclamation Projects
Seismic Locating
GIS Mapping
Crossing Inspection/Supervision
Sign Installations
Pipeline Integrity Programs
One-Call Management
Clean Harbors can fulfill your One-Call Management needs from start to finish, saving time and money for your administrative and field operations teams.
Receive
Screen
Dispatch
Field Visit
Report
Record
Archive