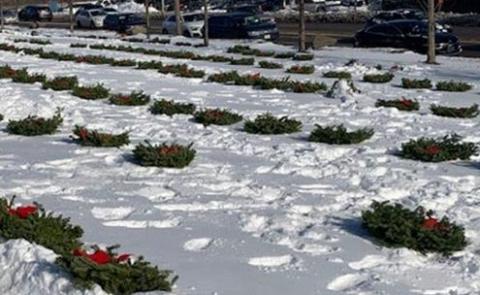 ​It all starts in October in the quiet town of Columbia Falls, Maine. A bustling operation is underway in an area shrouded by balsam fir trees -- volunteers are busy building millions of wreaths to ship to cemeteries throughout the United States.
Come December, as part of National Wreaths Across America Day, ceremonial wreaths are displayed at thousands of locations, including Arlington National Cemetery, to honor all those who served in the United States military. This year, on Dec. 19, more than 2 million wreaths came to adorn veteran graves at more than 2,500 locations nationwide.
Clean Harbors partnered with Wreaths Across America to assist in the pickup and delivery of approximately 11,000 wreaths. One batch headed to New Jersey for distribution, while another traveled to Ohio. Veteran employees also partook of the laying of wreaths this month.
"Knowing firsthand what veterans sacrifice – time away from family, missing birthdays, not being home for the holidays – National Wreaths Across America Day is a nice way for us to give back and show our veterans that we appreciate everything they did for our country. To know that they are not forgotten," said Army veteran and military recruiting program manager Brian Favreau, who visited Mount Wollaston Cemetery in Quincy, Massachusetts, to be a part of the wreath decorating process.
At a similar time, in a similar place, approximately 800 miles west, account development manager Tony Stein stood at St. Margaret Cemetery in Chillicothe, Ohio, to help lay wreaths on the graves of servicemen and women.
A veteran of the Army National Guard who served in Operation Desert Storm, Stein didn't stop there. He later traveled to Calvary Cemetery in Dayton, Ohio, to visit his namesake's grave, Tony Stein, a Marine Corps machinist who earned the Congressional Medal of Honor for his lifesaving actions during World War II. The experience is not one Stein will soon forget.
"It was an honor to be a part of this day," said Stein. "To me, it's a moment to give back. I'm proud that Clean Harbors was involved. You get that lump in your throat when you see the Clean Harbors truck delivering wreaths. I wanted to be a part of it all to support our veterans."
To help make this year's event happen, two Clean Harbors drivers Steve Dalpe and Mark Boyle, drove to Maine on Dec. 7 to pick up 5,400 wreaths each for distribution. Volunteers were still busy twisting branches and tying bows, working diligently to ensure the wreaths made it out to their desired locations in time.
"It's fine oiled machine up there, very high energy" said Boyle, who was responsible for the New Jersey load. "It really was quite an experience."
Based out of Cranston, Rhode Island, the national transportation driver made a special call to his father while on site. As a third-generation truck driver, Boyle knew his dad would appreciate hearing about the unique experience, and he wasn't wrong. The two also got a chance to reminisce about Boyle's grandfather, a World War II Army veteran – making the trip up there all the more special.
Earlier that day, Dalpe pulled into the loading dock area at the Wreath Across America workshop. He was no stranger to the area. Nearly a decade ago, he was part of a team that helped deliver the materials to Maine for assembly. Now, for the first time in his history of driving, he'd help transport the final products – the same wreaths Stein would later decorate at St. Margaret Cemetery -- to their proper resting places in Ohio.
Days later, after the drop-off was complete, his truck still smelled of pine. A small reminder of what his efforts helped accomplish.
"This experience is one of those things that as a driver, you want to do," he said. "It's an honor to do it."