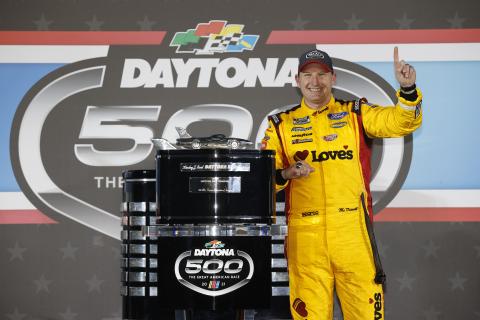 Daytona Beach, Fla. – Feb. 15, 2021 – In bringing home a Daytona 500 victory early Monday morning, Michael McDowell helped Performance Plus Motor Oil add to a trophy cabinet that already includes a NASCAR Xfinity Series season championship, NASCAR Cup Series poles and wins, and several land speed world records. For No. 34 McDowell from Front Row Motorsports, it's the first NASCAR Cup Series race win of his long career.
The Front Row Motorsports organization utilizes Performance Plus Motor Oil in their engines built by Roush Yates Engines.
"Congratulations to Michael, Drew, Bob and the Front Row Motorsports organization for winning the Daytona 500," said Doug Yates, president and CEO of Roush Yates Engines. "This was such an amazing weekend of racing. To win your first Cup race and for it be the Daytona 500 is amazing. I'm so proud of our entire team and our partnership with Performance Plus that allowed this Ford team to find Victory Lane."
It was a storybook ending for McDowell, recording the Ford Mustang's first Daytona 500 win and his first win in his 358th career start. McDowell is the eighth driver to get his first win at Daytona.
"I just can't believe it," McDowell said. "The only thing I can think of is just God is so good. For so many years, I've just been grinding it out trying to stay in this sport. Bob Jenkins gave me a great opportunity to go full-time in a competitive car. Drew Blickensderfer and my whole entire team have been working so hard for years to get into this position and I'm so thankful to Love's Travel Stops, Speedco, Safety-Kleen, Ford and Doug Yates. All of my Ford partners out there. I just can't believe it. I'm so thankful. It's amazing."
The 500-mile, Great American Race all came down to the last lap. McDowell, following Ford teammates Joey Logano and Brad Keselowski, found himself in position to take the lead after Logano and Keselowski had an on-track incident in turn 3 of the final lap. McDowell took the lead, and it became a drag race to the checkered flag with Chase Elliott and Austin Dillon. After a video tape review, McDowell was announced the official winner, beating Elliott by over a car length as the race ended under caution. 
"There's no better way to start the season for our brand than by winning NASCAR's biggest race," said Craig Linington, executive vice president of Safety-Kleen Oil. "Winning the Daytona 500 is another notable achievement of our lubricants. In hanging tough all race, especially during those final turns, Michael McDowell showed how Performance Plus excels in the toughest of conditions – the last lap of the Daytona 500. Congratulations to Michael on the win and thank you to the Front Row Motorsports team for bringing us back to Victory Lane."
NASCAR will be back at Daytona International Speedway this weekend to run the road course.
About Roush Yates Engines 
Roush Yates Engines is a leading-edge engine development company based in Mooresville, NC consisting of two state-of-the-art facilities - Roush Yates Engines and Roush Yates Manufacturing Solutions, a world class ISO 9001 / AS9100 certified CNC manufacturing facility. The company's core business includes designing, building and testing purpose-built race engines.
With an unparalleled culture of winning and steeped in rich racing history, Roush Yates Engines continues to follow the company's vision to lead performance engine innovation and staying true to the company's mission, provide race winning engines through demonstrated power and performance.
About Performance Plus Motor Oil
Performance Plus is a premium brand of lubricants that provide superior quality and unmatched performance at a competitive price. Produced and distributed by Safety-Kleen, a subsidiary of Clean Harbors (NYSE: CLH), Performance Plus products use conventionally refined oils and proprietary twice-refined oils, blended with industry-leading additives, to meet and exceed industry certifications, licenses, approvals and OEM warranty requirements. With more than 30 years of innovation, research and testing, Performance Plus formulations are relied on by some of the largest commercial fleets and U.S. military combat vehicles, as well as race teams at events across North America. Visit PerformancePlusOils.com.
About Front Row Motorsports
Front Row Motorsports (FRM) is a winning organization in the NASCAR Cup and Camping World Truck Series. The team was founded in 2004 and is owned by successful entrepreneur, Bob Jenkins. FRM fields the No. 34 and the No. 38 NASCAR Cup Series teams along with the No. 38 NASCAR Camping World Truck Series team– from its Mooresville, N.C., headquarters. Visit teamfrm.com and follow FRM on social media: Twitter at @Team_FRM, Instagram at @team_frm and Facebook at facebook.com/FrontRowMotorsports.