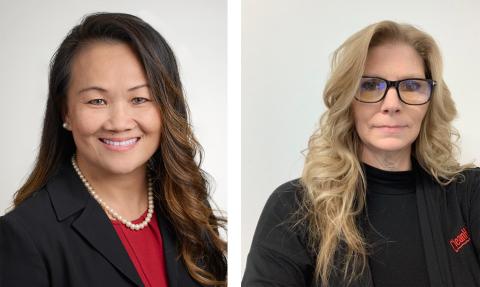 The Women In Trucking organization has its eye on Clean Harbors – it continues to recognize employees who are challenging stereotypes, breaking stigmas and advancing female employees in their careers. This week, it named Executive Vice President of Sales and Service Loan Mansy and Vice President of the Mountain District Jamie Creekmore as Top Women to Watch in Transportation in 2023.
For the sixth consecutive year, editorial staff of Redefining the Road, WIT's official magazine, selected 80 individuals for the list due to their significant career accomplishments in the past 12 to 18 months, as well as their efforts to promote gender diversity.
"Countless women in transportation are making significant strides in their careers while having a positive impact on their company's success," said Jennifer Hedrick, WIT president and CEO. "As part of WIT's mission to recognize the achievements of individuals, for the past six years our official magazine, Redefining the Road, has used this recognition program to acknowledge the accomplishments of impressive female professionals who work in our industry."
Both Mansy and Creekmore have worked hard to advance their careers and excel as leaders at Clean Harbors.
Mansy has 30 years in the waste management industry, starting her career in chemical engineering before moving through the ranks and landing at Clean Harbors in 2019. Having been mentored by Susan Dio – who recently retired as BP America's chairman and president – back when she first started out, Mansy works to provide the same type of guidance and leadership to females at Clean Harbors. She mentors six women within the sales and service organization and recently promoted her fourth female to a vice president role. She also serves as the executive sponsor for the Asian Employee Resource Group and sits on the company's diversity and inclusion steering committee.
With plenty of room for growth within the transportation industry, Mansy hopes to tap into the potential women bring to the table for roles historically filled by men.
"Women have all the capabilities of working in this industry and growing their careers, and Jamie and I are great examples of that. Whether you're looking to get into long haul driving or working the typical 9-5 job, we have something here for everyone," Mansy said. "I'm really proud to be on this list and showcase Clean Harbors as a company that celebrates diversity and prioritizes advancement for its female employees."
Creekmore, who has worked with the company for nearly 30 years, first started as an office manager at the Grassy Mountain landfill in Clive, Utah. With a constant desire to learn more and do more, Creekmore continued to gain company knowledge and grow her career in different lines of business. She worked at the Aragonite incinerator, served in Technical Services roles, as operations and district managers, director of transportation for National Transportation and now vice president.
Creekmore leads the company's Employee Engagement ambassador program, which works to create a culture where all workers feel valued, appreciated and satisfied in their jobs.
"I think the world, especially the transportation industry, is really prime for putting diverse hires in a variety of roles," she said. "Diversity, we know, nurtures new ideas and creativity and contributes to a company's growth. This recognition from Women In Trucking really reiterates that our efforts here at Clean Harbors are working."