High Tech Facility Modeled After Kingston Refurb Location
---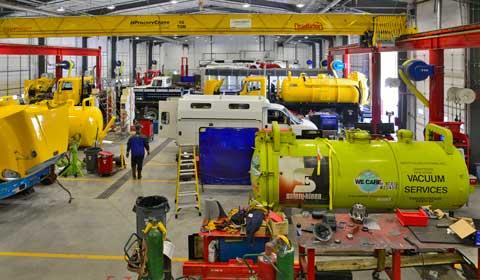 Incorporating the latest technology in the mechanical industry, Clean Harbors recently completed the building of its second asset refurbishment and repair center, located in Houston.
The 17,000-square-foot facility is approximately twice the size of the existing asset refurbishment and repair center in Kingston, Mass., and is equipped with a five bay garage, air conditioning, dual 10-ton overhead cranes, and three top-of-the-line industrial fans that evenly distribute airflow throughout the building.
Unique from many large freight repair shops in the country, Houston's repair center boasts of a climate controlled air flow system, which can be adjusted to a desired temperature in minutes. The climate control ability not only improves work conditions but also attracts and retains some of the best talent in the industry with its amenable work area in an unforgiving hot, humid region.
Vice President of Refurbishment Operations Rick Smith said proper maintenance on trucks and other assets within the company is invaluable.
"When proactively managing refurbishment, we are avoiding trucks going down inadvertently and not being able to service customers," said Smith. "We're increasing revenue and decreasing vehicle expenses through active management of the vehicles and assets."
The Houston center is also piloting various new software systems and apparatuses that will provide a more efficient and safer work environment for the mechanics and other employees in the facility. Vice President of Fleet Maintenance Ginn Velez stressed the importance of the new tracking systems and laptops that are now provided to each mechanic.
"Not only can they do their labor and parts on their own laptops," Velez said, "but we have given them access to all the major OEM [Original Equipment Manufacturer] websites to look at, schematics of the vehicle and electrical wiring diagrams of parts and part numbers so they can research the asset before they order a part or complete diagnostics."
Along with the laptops, Houston is piloting more than $20,000 in tooling to increase efficiency and improve employees body positioning. These include an independent light, brake, and ABS check cart, a wheel torque multiplier, a J-pro diagnostics machine, and a Behr HD load tester. Also, to offer instant access to safety supplies and monitor serialized tooling, vending lockers have been installed that can only by granted permissions to employee IDs.
The new technology in the repair center work environment should further improve morale who will be better suited to interact with one another and customers and be more prepared for their job.
Modeled closely after the Kingston Asset Refurbishment Center, the facility in Houston will use similar methods and tools in order to see successful management of assets.
"We imitated the physical appearance, the aesthetics and the tooling [of Kingston], but we're also spending a lot of time cross-training the technicians and putting people from Houston in Kingston and vice-versa," Smith said, "because we want the team in Houston to use the best practices we have adapted to in Kingston."
Houston's facility plans to continue sustainable work throughout the process of maintaining, repairing, and refurbishing assets.
"We have a lot of sustainability going on here and commitment regarding that process." Velez said. "We're sending the used oil out for recycling and purchasing re-refined oil, recycling parts washer solvent, the sandblast media is recycled and the LED lights are energy efficient."
Houston's facility is loaded with a recyclable sprinkler system and energy efficient lights.
"Our septic system water levels are actually dispensed back out through a sprinkler system," said Velez. "Our light packs on the outside of our buildings are light sensitive, able to turn on and off with the change of sunlight. I think everybody plays a part in trying to be sustainable, we've set up an environment of trying to be conscious about it, even down to our water cooler coming from the faucet. There's just a lot of potential for growth and what we can do in the future."
Like Velez, Smith is confident that the new investment - the second of its kind - will result in future success for the company.
"This is the best and the biggest maintenance facility we have in the organization and it was built to compete with large trucking companies and/or dealerships to recruit and retain some of the best talent in the industry," said Smith. "We now have the infrastructure to not only internalize as much maintenance as possible to service our vehicles that can service our customers, but also now get ourselves in a position to rebuild and refurbish our assets in more of a proactive as opposed to a reactive way."