Company Will Consider Providing Oil at Salt Flat Speed Week In 2017
---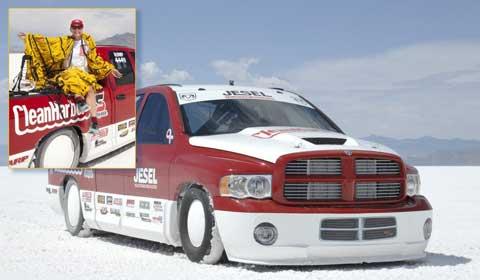 Following the acclaimed sponsorship of the youngest female driver to join the Bonneville 200 mph Club, Clean Harbors this winter will consider upping its skin in the famous Bonneville Speed Week games by providing oil to some of the world's fastest vehicles in 2017.
In August, 18-year-old Kaylin Stewart earned her way into the prestigious Bonneville club after hitting 224 mph in a Dodge Ram. Racing for Wayne Jesel, the red and white pick-up truck was sponsored by Clean Harbors - emblazoned with Clean Harbors script across the hood and another flanked by two Safety-Kleen logos on the bed.
Rained out the two years prior, the last race was the third time Clean Harbors participated in Bonneville Speed Week. The home of several land speed records, the internationally renowned event is held on expansive Utah dried lake beds west of the Great Salt Lake near the Nevada border.
"To anyone who's involved in performance products, the salt flats are the real testament to the best times, the best distance, aerodynamic engineering and all types of things," said Buddy Judy, Clean Harbors Director of Key Accounts. "It gets tested at Bonneville. Proven at Bonneville."
Three records were set in different engine classes with the Clean Harbors truck, which currently holds seven different class records. Nine others joined Stewart in the 200 Club.
Setting records and joining the speed club isn't as easy as simply putting the pedal to the metal. Even before the green light, different shift and RPM points must be carefully planned. The surface is also unique: Operating on the salt flats is very much like driving on a frozen lake - drivers must take their time coming up to speed, sustain the speed and then spend miles braking.
It's not enough to hit top speed for a split second, the speed must be maintained for multiple miles. The driver then must go on a second run to back up that mark, just to show the run wasn't a fluke.
"Even though NASCAR guys may hit 200 mph on the track, it's harder to do at Bonneville," said Drew Patey, Safety-Kleen motorsports manager. "To set a record on the salt - it's a prestige thing among speedsters."
For many drivers, the 200 mph Club at Bonneville is a bucket list worthy achievement. Stewart, a student at Chapman University in California majoring in creative producing, finished a project documenting females in the fast club before joining herself.
"I would love someday to go drag racing, but I fully intend to continue land speed racing," she said.
Stewart's been helping her uncle on the Jesel crew her whole life - working on Bonneville cars before she could even reach the pedals.
"She's put her wrench on the truck," said Mike Cook, famed salt flats racer. "She's not a gal trying to keep her fingernails clean. She's worked on trucks - tires on and off, tuning, that sort of thing."
"She did a great job," said owner Wayne Jesel. "We are very happy to have helped a young person advance in land speed racing."
Clean Harbors picked up the Jesel sponsorship after securing an account with the well-known drag racing component manufacturers at their Red Bank, N.J., shop.
Event organizers also hire Clean Harbors yearly to collect oil and solvents during speed week.
"The Bureau of Land Management is really happy to have us out there supporting the salt flats," Judy said. "It's truly the greenest racing in the world. It's greener than electric racing. When they pull out from the salt - which is white and pristine - it has to look just like it did when they arrived. Every drop of oil is taken care of. That's not the way it works in other forms of racing or sports in general - I wish it was."
Clean Harbors will soon test its oil in that truck at events in Ohio and California in hopes of further participation at Bonneville Speed Week 2017 in August.