Crews Offer Aid, Services During Historic Flooding
---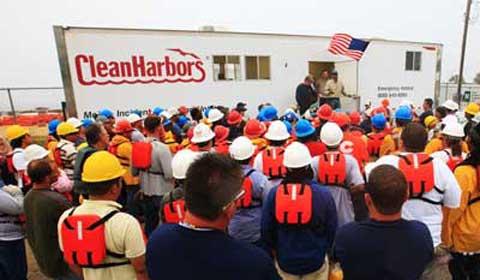 Clean Harbors is continuing to send people, supplies and resources to the Texas Gulf Coast to assist in the massive relief effort, bringing its 15 affected facilities in the region back to full operations, helping its employees and other victims and aiding its customers in their clean-up and recovery.
Immediately following the hurricane, Clean Harbors crews joined search and rescue efforts. Teaming with local and federal authorities at various locations around Houston; Port Aransas, Texas; and Metairie, Louisiana, company employees used Clean Harbors boats to evacuate victims and bring people to hospitals in flood areas. Water buggies also proved to be a unique, yet effective, way to reach flood-stranded people and bring drinking water and supplies to people in need. Many Clean Harbors trucks were retrofitted with search lights to serve as urban search and rescue vehicles on dry land.
At the start of the week, mobilization efforts began at numerous Clean Harbors locations to send equipment and resources to the Houston area. Vacuum trucks came in from California and Colorado as generators, pumps, light towers and temporary housing were sent from Alberta, Canada. Trucks, resources and supplies were directed to the area throughout the week and are set to continue for the foreseeable future for as long as there's a need.
Flooded Clean Harbors facilities in the area were pumped out and many reopened on Thursday. One of those locations - the facility near Pasadena, Texas, about 20 miles southeast of downtown Houston - is being prepped to serve as the hub of the company's relief efforts. It will receive incoming equipment, house employees and serve as the operating base for crews. Mobile emergency response command trailers were set-up there Friday.
Along with the many employees from the Houston area and bordering states, crews of Clean Harbors field service workers arrived in Houston on Thursday night to bolster the ranks. Disaster response experts with a variety of skill-sets are anticipated this weekend from around the United States, Canada and Puerto Rico and more are to be sent early next week and well into the month.
With more temporary lodging set to arrive, the Pasadena facility will become a camp for Clean Harbors employees, all working to help Houston residents and businesses rebuild.