Lonestar West Acquired for $43 million Canadian ($34 million American)
---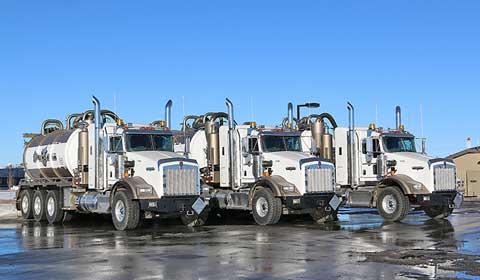 Clean Harbors acquired Lonestar West earlier this month, a move that immediately vaults the company into the upper-echelon of hydro excavation service providers in the United States and Canada.
An Alberta-based company, Lonsestar specializes in hydro excavation and daylighting - a safer water and vacuum alternative to traditional, hard edged digging that can damage underground pipes and wires. The addition of Lonestar's 90 hydro vacs effectively doubles the Clean Harbors fleet. Another 50 other units - vacuum trucks and end dumps - were also acquired.
The acquisition was finalized on July 17 for $43 million Canadian ($34.5 million American).
"With the purchase of Lonestar, we saw an opportunity to accelerate our position in the hydro vac market and substantially increase our scale," said Clean Harbors CEO Alan McKim. "Given the versatility of hydro vacs, we can leverage these highly desirable assets across a number of our lines of business."
Lonestar's 12 operating centers were key to the deal, as they aligned with the Clean Harbors strategic growth plan to expand into Northern California, Ontario, Oklahoma and the Northeast.
"This was a perfect fit strategically. They were established in locales we wanted to be," said the Clean Harbors Executive Vice President of Industrial Services Brian Adams. "This expands our footprint on both sides of the border."
Much like Clean Harbors, which started in 1980 as a small operation out of suburban Boston before becoming the industry leader in environmental, energy and industrial services, Lonestar began 17 years ago with just one truck.
The 160 employees coming over in the acquisition will keep the distinctive Lonestar branding while leveraging Clean Harbors' many business lines and 250,000 customers.
"The combination of Clean Harbors and Lonestar will create a more formidable competitor," said Lonestar CEO James Horvath. "As a single organization, we will benefit from operational efficiencies and economies of scale, and increase our capabilities and service offerings for our combined customer base."
Before negotiations, Adams said Clean Harbors - which began focusing on the business in 2015 - saw Lonestar as a top competitor in the market with a stellar industry reputation. Together, they look to further increase their customer base and multiply offerings in the United States in Canada as a leader in the field.
"Both companies have battled through the industry downturn, he said. Now we're ready to take advantage of this upturn by growing, expanding and bolstering collective sales."