Asked to Present on Safety Initiatives at National Conference
---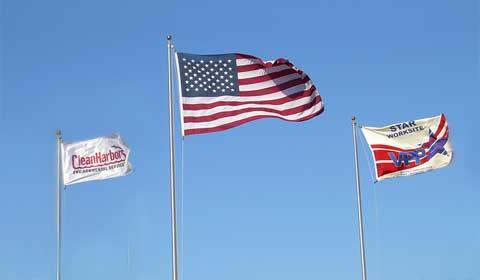 In an industry teeming with safety initiatives, Clean Harbors' Start-Safe/Stay-Safe program may become a new high bar.
During a Voluntary Protection Program (VPP) recertification at Clean Harbors' Spring Grove facility near Cincinnati, a representative from the Occupational Safety and Health Administration (OSHA) asked Clean Harbors to present its 'Start-Safe/Stay-Safe' Program at their National Conference.
The VPP is an OSHA initiative directed toward preventing workplace injury and illness through hazard prevention, training, workplace analysis and cooperation between management and workers. The program offers two levels of certification: the lower tier "Merit", and the highest honor, "Star." Clean Harbors has six VPP Star certified sites. Spring Grove earned Star status in 2007 and passed the most recent audit - recertifying facility for five more years.
'Start-Safe', the first part of Clean Harbors' program aims to instill a safety culture consisting of daily online training modules, peer to peer relationships and a field journal. While the second installment, 'Stay-Safe', is a continuous component, delivered on a monthly basis through video portrayal, real-life safety scenarios and communication training.
OSHA was uniquely impressed by Clean Harbors' continuous safety education efforts. While many safety programs begin and end during an employee's onboarding process, this initiative is built to stay with the employee throughout their career with the company.
"The company's commitment to promote communications for overall safety and health has excelled greatly," OSHA representative Julie Weis said. "The influx of new initiatives assures that the workforce remains engaged, informed, educated and empowered. One of these initiatives is the Start-Safe program. Emphasis is focused on assuring that newer employees are trained and aware of potential hazards and has progressed to now include Stay-Safe that encompasses all employees. These types of innovative programs show continuous improvement in the VPP program, are shining examples, and are best practices for other companies to consider at their facilities."
In the environmental services industry, a continued effort to promote safety is crucial because of the nature of work that is endured by field service employees and technicians.
"It's a safety/cultural program where it gets the employee involved with the manager. And it's taking a combination of training and employee involvement activities and improving states of communication and feedback," said Start-Safe Program Director Greg Sebastian. "It takes all of those aspects and rolls it into one package and that's where we think we've hit the next level in terms of safety training."
The continuous improvement of such programs and the ongoing Stay-Safe initiative shows not only a constant progression but also the ability to impact an entire industry.
"To have an OSHA representative saying that the facility is not only one of the best in the country, but the program itself is something that she feels should be implemented in some way shape or form at other VPP sites," said Clean Harbors Regional Health and Safety Manager Floyd Williams, "It's pretty extraordinary."