Hydro Vac Offers Environmentally Friendly Way to Dig in the Northeast
---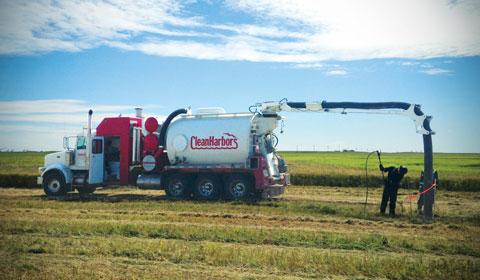 This year, Clean Harbors celebrates it's 30th year at the company's Bangor location.
As the company name suggests, Clean Harbors has a long history of environmental stewardship on land and water. For three decades, the company has been meeting Maine's toughest environmental challenges by cleaning up oil and other toxic liquid spills, mitigating potential environmental impacts after emergency situations, collecting and properly disposing of hazardous waste, and protecting waterways as cargo is transferred from marine shipments.
In the past few years, however, Clean Harbors has become experts in a new, environmentally friendly way to dig. Hydro excavation is a more precise, faster, more cost effective and safer option than construction equipment like backhoes, bulldozers and dump trucks.
Clean Harbors crews employ state-of-the-art hydro vac trucks that use high-pressured water streams to blast through the earth while simultaneously vacuuming up the newly loose soil into the truck's tank.
Since the water stream won't damage underground utilities like a hard-edge digging tool, the method is perfect for exposing underground wires and pipes in need of maintenance. It can also be used for installation, locating utilities, trenching, pier holing and clean-up work on tanks and spills.
Given the surgical precision in which the water cuts through the ground, hydro excavation has far less of an impact on the surrounding environment than traditional digging methods. It reduces waste and requires far less backfill to restore the land. After the job, crews simply drive the collected soil away for reuse or disposal.
"We're really the only ones using hydro vacs in northern New England," said Bangor Branch Manager Kevin Kelly. "It's the future of the industry."
Staffed by Maine natives, the branch covers from Augusta north to Aroostook County. Clean Harbors is an official sponsor of the BikeMaine ride along the Canadian border each year.
From responding to disasters and protecting the environment from hazardous spills to cleaning up downed transformers in a storm or partnering with towns for household hazardous waste collection events, Clean Harbors has been doing its part for three decades to keep Maine pristine.
While proud of its legacy, Clean Harbors is an innovative company that's always looking for the next and best technology to provide its customers with unsurpassed results while doing its duty as a corporate citizen of Maine.
"We're Mainers protecting Maine," said Ronda Hartley, who's worked at the Clean Harbors Bangor branch for 29 years. "We're proud of our 30-year service record and we're looking forward to at least 30 more."