Responses to blizzards, mudslide and spills
---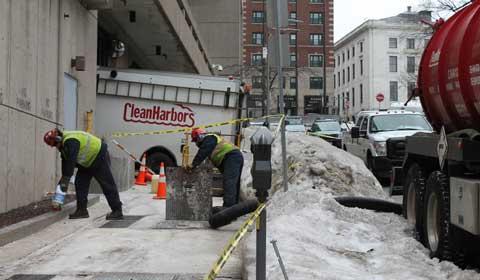 Throughout the winter, Clean Harbors helped people, businesses and the government in seasonal clean-up across the United States and Canada. After what was a seemingly endless winter, here are just some of the stories:
Nor'easter downs transformers
Clean Harbors responded to a Massachusetts wharf where a lobsterman was trapped by power lines downed by a March 13 blizzard. Following the rescue, crews cleaned up oil spilled from the lines' destroyed transformers.
Read more: Fairhaven fire crew rescues fisherman, extinguishes fire - South Coast Today
Sailing Center sinking
The same March blizzard caused a sailing building on the Charles River in Cambridge, Mass., to begin sinking. Clean Harbors crews responded to the restoration effort to protect the river from any potential pollutants. Read full article
Read more: Crews Temporarily 'Restore' Sinking Harvard Sailing Center - The Harvard Crimson
Diesel spill following tanker crash
Clean Harbors responded to a crash in Maine on March 15 in which a fuel tanker driver hit a snowy shoulder, crashed and spilled approximately 800 gallons of diesel.
Read more: Fuel Tanker Crashes, Spills 800 Gallons of Diesel in Jefferson - The Lincoln County News
Sewerage break
Clean Harbors workers spent a frigid weak in January on decontamination, vacuum and other jobs after a massive main break on Nantucket that discharges more than 2 million gallons of sewage into the harbor and onto public streets. Extreme cold was speculated as a contributing factor.
Read more:
Nantucket sewage spill stopped - Cape Cod Times
Sewer-break update: Clean-up, investigation continues Thursday; Petroleum leak being addressed - The Inquirer and Mirror
Crews Continue Making Progress Following Nantucket Sewage System Failure - CapeCod.com
Mudslide clean-up
For five days in April, Clean Harbors, with Santa Barbara County, Calif., officials, offered free household hazard waste curbside pickup for residents affected by a Jan. 9 mudslide that caused extensive property damage in the area and lead to more than 10,000 pounds of collected waste.
Read more:
Curbside pickup offered to residents affected by January mudslide - ABC KEYT-TV
County to Collect Unsafe Waste From Homes Hard-Hit by Debris - Noozhawk Flow
Hazardous Household Waste Curbside Pick-Up - Edhat Santa Barbara
Oil spill in river
In March, Clean Harbors crews worked at the McKenzie River in Oregon helping to contain an oil spill from a paper plant.
Read more: As Water Samples Analyzed, Crews Monitor Oil Spill Site Along McKenzie River - KLCC 89.7
Cape Cod oil spill
Clean Harbors deployed booms and absorbent pads in Great Harbor off of Woods Hole in Cape Cod on Jan. 21 to contain a mystery oil spill.
Read more: Coast Guard investigates oil spill in Woods Hole - Cape Cod Times
Pipe issues in government building
Clean Harbors crews worked at a state government building on March 16, cleaning up from a burst pipe.
Read more: Major state office building closed again for plumbing probe - State House News Service
Sunken tugboat
Clean Harbors aided in a mission to inspect a sunken tugboat off the coast of a Maine in late February.
Read more: Coast Guard sending down camera today to survey sunken tugboat - Portland Press Herald