British Columbia Couple Expected to Make Recovery Thanks to Efforts
---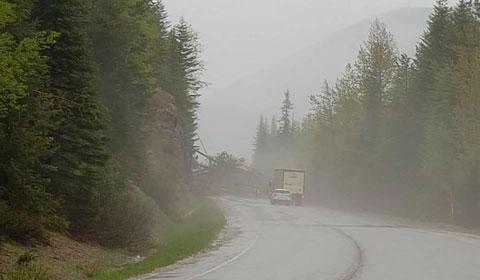 Two Clean Harbors workers driving through the Canadian Rockies put their safety training and awareness skills to use in heroic fashion after coming across a mountain mudslide.
Edmonton District Manager Dave Bell and Senior Account Manager Marty Bowes were heading back from a meeting last month on Highway 3 near Nelson, B.C., when they came across the aftermath of a mudslide that appeared to have happened only moments before.
The two blocked the road a kilometer back from the debris to prevent a pile up before putting on their work clothes and boots. They waded through chest deep mud in search of survivors.
A Saskatchewan couple's car had been swept off the side of a cliff before the Clean Harbors employees arrived. Gabe Rosescu and Sheri Niemegeers were badly injured, trying to put together an escape plan while suspended in a tree on the side of the mountain. There was no cell service.
"All of a sudden we heard a vehicle and heard some voices, so we started screaming for some help," Niemegeers told CTV News.
Those voices were the Clean Harbors employees.
Bowes and Bell helped pull the couple to safety and administer first-aid.
"I've been a firefighter for 20 years and seen a lot of things, but never seen an injury as bad as Gabe's was, he had a very major critical head wound," Bowes said.
Cell service in the area was almost nonexistent, but a nearby semi-truck driver was able to contact emergency responders with a signal booster. Bell flagged them down after spotting them heading in the wrong direction due to the poor location services.
Barely conscious and breathing heavily, Rosescu was airlifted to Kelowna, B.C., with bleeding in the brain and an orbital fracture. Niemegeers was taken to a hospital in Trail, B.C., for a broken sternum and ankle.
"[We are] just happy we were able to get them out to safety and that they are on the road to recovery," said Bowes, who later called Rosescu's family to confirm that he was going to pull through.