Company Overview
Clean Harbors is North America's leading provider of environmental and industrial services. The Company serves a diverse customer base, including a majority of Fortune 500 companies. Its customer base spans a number of industries, including chemical, and manufacturing, as well as numerous government agencies. These customers rely on Clean Harbors to deliver a broad range of services such as end-to-end hazardous waste management, emergency spill response, industrial cleaning and maintenance, and recycling services. Through its Safety-Kleen subsidiary, Clean Harbors also is North America's largest re-refiner and recycler of used oil and a leading provider of parts washers and environmental services to commercial, industrial and automotive customers. Founded in 1980 and based in Massachusetts, Clean Harbors operates throughout the United States, Canada, Mexico and Puerto Rico.
Our Vision
To be recognized as the premier provider of environmental and industrial services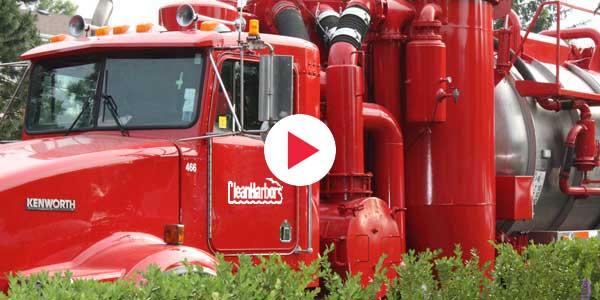 The Company operates two reporting segments – Environmental Services and Safety-Kleen – which are made up of several businesses.
Environmental Services
Technical Services provides a broad range of vertically integrated hazardous and non-hazardous material management services. These include collection, packaging, transportation, recycling, treatment, and disposal services, which are offered at Company-owned recycling, incineration, landfill, wastewater, and other treatment facilities. Clean Harbors operates more than 100 hazardous waste disposal facilities.
Industrial and Field Services provides industrial and specialty services. These include high-pressure and chemical cleaning, catalyst handling, decoking, hydro excavation, material processing, leak detection and repair, line tapping and oilfield transport and production services. Industrial and Field Services also consists of a wide variety of environmental cleanup services, including tank cleaning, decontamination, remediation and spill cleanup.
Safety-Kleen Environmental Services provides parts washing, containerized waste collection, vacuum services and other environmental services for the small quantity generator market.
Oil, Gas and Lodging Services serves the oil and gas exploration, production and power generation industries. Services include seismic support services, surface rentals and lodging operations in Western Canada.
Safety-Kleen Sustainability Solutions (SKSS)
SKSS provides used oil collection, recycling and re-refining services, through a network of terminals and six re-refineries across North America. SKSS offers a closed-loop environmental solution that enables customers to effectively manage their waste oil and related fluids through an ecofriendly process where most of their waste is recovered and returned to the marketplace.