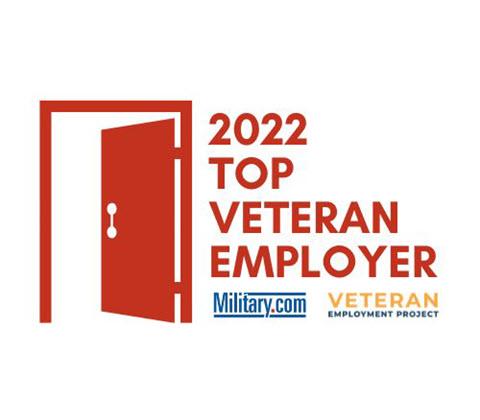 Pointing to the high number of employed veterans and the company's commitment to hire more men and women who served their country, Military.com recently recognized Clean Harbors as one of the top organizations for former service members to work.
Clean Harbors earned a spot on the annual "Top 25 Veteran Employer" list in November from Military.com – a leading news and resource website for military members, veterans and their families.
This is the first time Clean Harbors has been given the distinction and, for recruiters who have been specifically seeking out veteran candidates, it's external validation of the progress Clean Harbors has made in hiring veterans and creating a culture conducive to those who served.
"This recognition is another step in our evolution to become a more diverse and inclusive employer," said Recruiting Director Tim Therrien. "Over the last few years, we've made strides to create a welcoming space for servicemembers and we want to share that success externally."
Military.com evaluated applicants based on several criterion, including percentage of veteran employees at the company, available programs for service members transitioning into the workforce and the types of support accessible to veterans.
A remarkable one in 10 Clean Harbors employees in the United States are veterans. To support those within the organization, the company launched its Veteran Employee Resource Group two years ago, which allows members to connect with their counterparts on a higher level outside of regular job responsibilities.
"Veterans understand each other and enjoy doing the actual work with each other but, through the ERG, they can engage with one another to navigate their own struggles or just remember the good times," said Veteran ERG Co-lead Chris Gonzalez, a recruiter and Army veteran. "It's one of the many ways we're working to provide the most supportive environment for our brothers and sisters in arms."
Given the support they receive, members of the veteran community often regularly work to educate their former compatriots that Clean Harbors is a mission-driven company, operating much like a military structured environment, where employees can thrive in various career paths.
Clean Harbors in 2018 also entered into the Army Partnership for Youth Success (PaYS) program that guarantees a job interview to any active or former soldier.
To help attract talent, Clean Harbors offers military skills translators on its careers page – a tool that makes the job search easier for servicemembers by finding postings that directly correlate to their unique skillsets.
Additionally, the company is a member of the Department of Defense SkillBridge Program, which places servicemembers in their last 180 days of active duty in internship-like roles to prepare for a permanent job upon their release.
Similarly, Clean Harbors is part of the United States Chamber of Commerce Hiring our Heroes Fellowship program, where veterans, transitioning service members and military spouses can work with partnering organizations to be placed in civilian roles based on their qualifications.
"When a veteran is going out and looking for a job, they're looking for a place that's going to be the best fit culturally, a place that feels like home and aligns with their own personal mission," Gonzalez said. "The more we can highlight our programs and offerings, internally and externally, the better shot we have at attracting veterans to the company."
He believes being recognized on Military.com's prominent list will allow Clean Harbors to be even better at achieving the goal of hiring well-suited, practical and experienced applicants.