Chemical and Hazardous Material Spill Response
---
Overview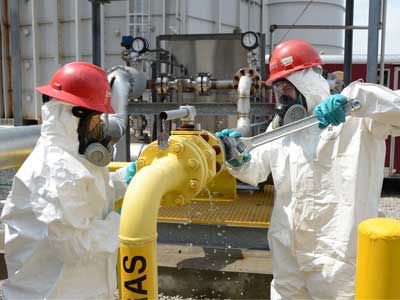 From one small spill to large-scale facility decontaminations, Clean Harbors has the personnel, equipment and technical proficiency to handle all types and sizes of hazardous material and chemical spills.
While facilities certainly should focus on preventing spillage of chemical and hazardous material, it's a fact of life that accidents happen. When spills occur, you want them handled quickly, safely and professionally—so, you contact Clean Harbors. We manage spills of all types and sizes, including:
Flammables, corrosives, oxidizers, toxics, poisons 
Liquid, solids, semi-solids, gases 
Solvents, acids, bases (caustics), reactive material 
Metals (mercury, lead, cadmium, etc.) 
Clean Harbors Services
Our experienced, 40-hour OSHA HAZWOPER trained and certified workers manage all aspects of hazardous material and chemical spill cleanup.
Immediate response and containment
Recovery and cleanup
Repacking and removal
Decontamination and restoration
Transportation, treatment and disposal
Short- and long-term site remediation
Containment maintenance