Overview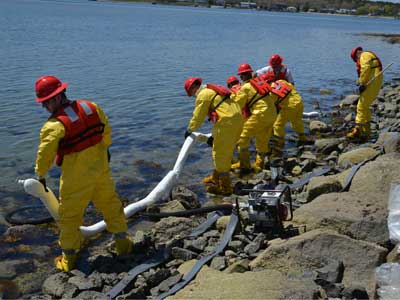 With more than 35 years of experience in oil spill response, Clean Harbors has the resources and expertise to respond to any size oil spill on land or in water―anywhere across North America.
Whatever the size or type, oil spills interrupt work and impact the environment. We are experts at expediently containing and remediating spills so that you can resume normal operations. 
Clean Harbors Expertise and Resources 
Clean Harbors handles everything from common over-the-road oil spills to large-scale events such as ship groundings, pipeline ruptures, well blowouts, tanker truck rollovers and facility releases. Our oil spill response resources include:
Response vessels, containment boom and skimming and recovery equipment 
Full ICS/NIMS support team 
Certified vessel operators and crew support 
Agency contractor and insurance company approval
U.S. Coast Guard Oil Spill Removal Organization (OSRO) 
Under the U.S. Coast Guard's (OSRO) Classification Program, Clean Harbors holds Captain of the Port (COTP) ratings for facilities and vessels in 56 ports and is approved for ship-to-shore transfer operations in 22 COTPs. 
Download Fact Sheet (Oil Spill Removal Emergeny Response Services)