Demolition and Dismantling
---
Overview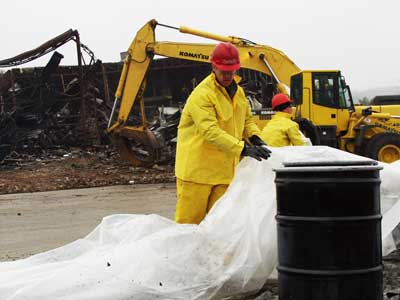 Clean Harbors provides Demolition and Dismantling services in both emergency and scheduled situations. 
Organizations may require demolition and dismantling services for a host of reasons, including renovating or expanding facilities. Whatever the case, Clean Harbors Demolition experts have the technical skills and project management expertise to safely demolish and remove any structures, equipment and other building materials. Specific applications include:
Removal of process equipment, tanks (including underground tanks) and piping
Removal of reinforced concrete, structural steel, walls and floors
Demolition and disposal of contaminated building components
Demolition of compromised structures in emergency situations
EH&S Services
Whatever the demolition or dismantling project, Clean Harbors maintains its focus on safety and compliance. We obtain the proper permits, consult engineering disciplines, implement a site health and safety plan and mobilize the equipment and manpower to get the job done quickly, safely and in compliance with all regulations. 
Finding a company to perform demolition isn't difficult. But, if you're looking for highly skilled experts who not only demolish but also transport and dispose of waste materials while ensuring regulatory compliance, then Clean Harbors is your first and only call.