Overview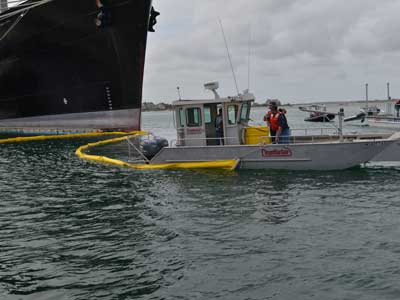 With extensive in-house resources―from our trained field crews to our network of specialized equipment to our disposal facilities―Clean Harbors controls costs and liability while providing turnkey solutions for your maritime service needs.  
Clean Harbors brings decades of marine experience to our Maritime Services, operating in most ports across the United States, Canada and Puerto Rico. In addition to our many locations, our robust equipment inventory―including more than 240 vessels, 100 skimmers and 360,000 feet of containment boom—ensures that we can respond quickly to your maritime needs. We effectively handle any size release, and we provide emergency response and response readiness for oil and chemical spills on water and land.
U.S. Coast Guard Oil Spill Removal Organization (OSRO) 
As a classified OSRO, Clean Harbors holds Captain of the Port (COTP) ratings for facilities and vessels in 56 ports and is approved for ship-to-shore transfer operations in 22 COTPs.
Other Maritime Services
Onboard maritime services to meet American Bureau of Shipping (ABS) Standards
Port services and facility operational support
Average Most Probable Discharge (AMPD) Coverage for transfer and lightering operations.
Hazardous and non-hazardous waste disposal and recycling
Decommissioning, cleaning and abatement for shipyards, dry docks and breaking facilities 
Offshore and nearshore petroleum services in the Gulf of Mexico and Atlantic Maritimes