Product Recovery and Transfer
---
Overview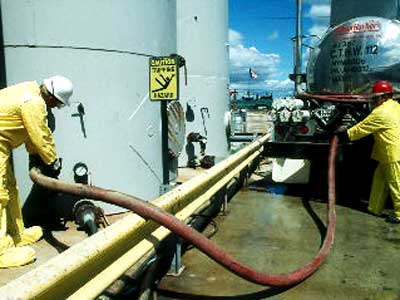 Avoiding product spills is always the goal, but when they happen, Clean Harbors Product Recovery and Transfer Services is here for you. We provide immediate and complete capture of spilled product, which minimizes loss and environmental impact. We also perform routine non-emergency transfer of materials from tank-to-tank or over water. 
On-Site Transfer into Existing Tanks
Our pumping systems allow safe and reliable movement of materials from storage tanks that need product moved prior to the tank being cleaned. When possible, we salvage reusable products and dispose of remaining waste at one of our facilities.
Marine Transfer Capabilities
Clean Harbors is approved by the U.S. Coast Guard for ship-to-shore product transfer in 22 Captain of the Ports. Our ship-to-shore transfer capabilities allow us to easily offload product from ships or barges onto tanker trucks or other vessels.
With our large, highly trained staff, vast equipment inventory and numerous locations throughout North America, Clean Harbors provides timely, safe and thorough product recovery and transfer services.