Pigging and Decoking Services
---
Overview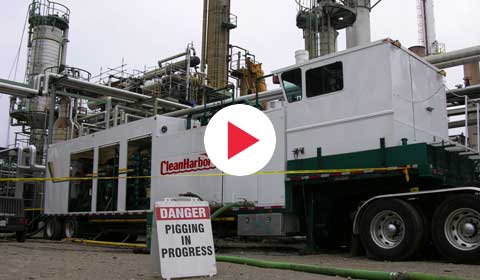 Clean Harbors is the only single source, full-service provider to offer comprehensive pigging services and "Smart pig" inspection technology for refinery and plant processes. 
Internal buildup of deposits, which decreases throughput and thermal efficiency, is a common problem for refineries and chemical plants. Clean Harbors provides a safe, fast and environmentally friendly approach to cleaning the interior walls of fired heater tubes and pipelines through our pigging and decoking services. 
Proprietary Processes and Equipment
The closed loop process uses a high volume, low pressure centrifugal pumping system to propel our patented bi-directional pigs through pipes and coils for cleaning. Closed loop pigging minimizes equipment downtime and is more efficient and less damaging to pipes than steam air decoking. All removed material can be contained for disposal or analysis.  
Download Fact Sheet (Pigging and Decoking Services)
The Clean Harbors Difference
More than a dozen pigging patents, including our patented soft core pig design
The world's largest fleet of twin-pump units, available 24/7
Our "Smart pig" technology, which determines tube wall thickness and identifies potential issues with the coils after a pigging decoke