Overview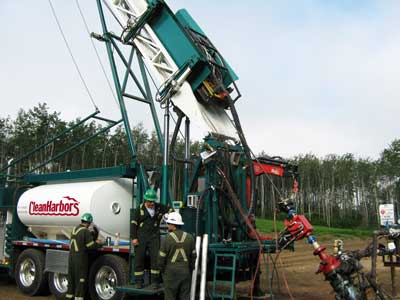 Clean Harbors Continuous Rod Services help businesses effectively overcome tubing wear and rod stress.
Aggressive pumping can result in tubing wear and tear as well as solids settling within the pump. A continuous rod can alleviate solids and pump pressure. 
Clean Harbors Continuous Rod Services are critical for the installation, removal and repair of continuous rod wells. Our equipment and services can lead to lowering your maintenance and energy costs, ultimately increasing production.
Advantages of using Clean Harbors Continuous Rod units
Reduces tubing and rod wear in horizontal, deviated, slant, or high-speed wells
Eliminates flow restriction past couplings in high-viscosity/sand production wells
Clean Harbors Continuous Rod Services include:
Pulling up to 50,000 pounds on slant wells
Pulling up to 50 feet of polished rod
Pulling up to 50-foot pumps out of stator for flushing
Servicing and running in continuous rod strings
We have the industry expertise to fully understand your business needs and help you achieve your production goals.
Fire Blade Welding
All of our continuous rod units are equipped with a vast selection of fishing tools to repair broken rods, including fire blade welders. These welders are designed to fuse together the broken continuous rod, so it can be reinstalled in the well.
Not only will you save costs associated with traditional service rigs, you'll benefit from cost savings associated with the fire blade welders.