Overview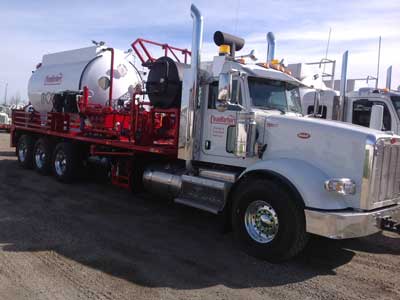 Clean Harbors offers high-level oil well preventative maintenance to avoid wax and debris buildup.
Fluid buildup of hydrocarbon and wax within wells and pipelines can negatively affect your production. Loss in production can have an adverse environmental impact and change customers' perspective of your organization. Preventative maintenance upfront can save time and money down the line. 
Clean Harbors Hot Oiling services focus on maximizing production and preventing unwanted fluid and debris buildup. Our hot oilers heat and pump water, oil or chemicals into wells and pipes in an effort to control any buildup. 
Clean Harbors Hot Oiling services include:
Treating large volume emulsions with heat and chemicals
Circulating dehys with solvents to clear trays and vessels of hydrocarbon buildup
Melting contaminated ice and snow via circulation
Heating large volumes of frac fluids
De-icing pop tanks
With low emissions, up to 6,000 liter capacity, and additional holding tanks for longer heating time, Clean Harbors offers the right environmental services to keep your business ahead of problems before they start.