Overview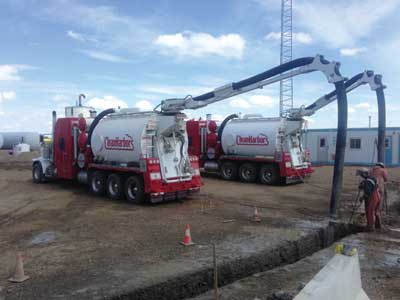 Clean Harbors provides safe, clean, precise and cost-effective excavation through our state-of-the-art hydro excavation methods.
When industrial and municipal environments require excavation, conventional machine digging can bring a low level of accuracy and high risk of underground infrastructure damage. The surrounding ecosystem could also be in danger, resulting in a huge environmental impact. Clean Harbors offers the safer, cleaner option of hydro excavation. 
Clean Harbors Hydrovac Services uses high pressure water and an industrial strength vacuum to break up soil and collect debris. We also have the ability to transport and dispose of the material, making Clean Harbors a one-stop shop for all of your excavation needs.
Clean Harbors Hydrovac Services cover:
Daylighting
Potholing
Trenching
Piling and test holes
Debris removal
Culvert cleanouts
Spill and pipeline break cleanup
Clean Harbors Hydrovac Services lower insurance costs and liability exposure. We offer the most cost-effective solution along with our teams of qualified operators to provide the best excavation option in the industry. 
Download Hydro Excavation Brochure (U.S.)
Download Hydro Excavation Brochure (Canada)