Overview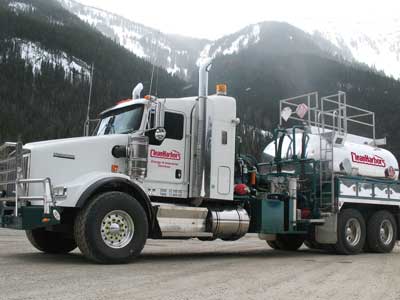 Clean Harbors Pressure Trucks test your equipment before operations begin to ensure production accuracy.
Your equipment needs to be ready before operations even begin. Comprehensive testing for leaks, pressures and flow rates should be evaluated up front by a company with a reputation of getting the job done right. Clean Harbors offers a fleet of pressure trucks to tackle a wide array of challenges, providing the best in environmental services.
Clean Harbors Pressure Trucks strategically push fluid at high pressures into wellheads, pipes and vessels to analyze and test for leaks as well as to monitor displacement. Our trucks have state-of-the-art equipment to provide you with the most accurate testing results, ranging from rates of volumes pumped to rate of pumping and pressures.
Clean Harbors Pressure Trucks usage includes, but is not limited to:
Service and drilling rigs
Hydro testing on new plant and pipeline construction  
Refinery shutdowns
Well workovers
Hot and cold chemical pumping
Tank/Vessel stinging
You can count on Clean Harbors Field Service operators to safety and effectively conduct professional testing and prepare your business for smooth operations. Our highly trained operators have the certifications and the drive to bring you exceptional service every time.