CleanPack® Laboratory Chemical Packing
---
Overview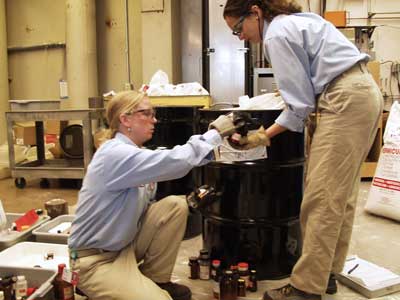 Clean Harbors proprietary CleanPack Laboratory Chemical Packing services provide proper recognition, handling, packaging, transportation and disposal of laboratory chemicals. We also perform laboratory relocations, closures and cleanouts.
Clean Harbors can manage virtually any chemical found in a laboratory environment including:
RCRA and non-RCRA chemicals
TSCA, DEA, radioactive, mixed waste and universal waste 
Biological and etiological chemicals
Compressed gas and cylinders 
Toxic, flammable, oxidizer, organic peroxide and corrosive materials 
Pyrophoric, gases, aerosol, unknown, reactive, explosive and shock-sensitive materials 
Ethers, THF, dioxane and sodium azide
Compliance
Throughout the chemical packing and disposal process, our skilled chemists help ensure your compliance with the latest EPA, DOT, TDG and Environment Canada regulations and record-keeping.