Reactive Material Services
---
Overview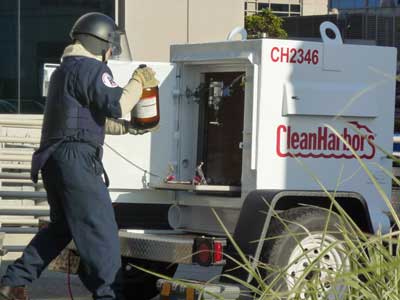 Clean Harbors provides a wide array of Reactive Material Services to ensure secure chemical management and safe disposal of unstable and explosive materials.
Clean Harbors has extensive experience working with unstable and shock-sensitive materials, as well as managing disposal of explosives and materials restricted from transportation. With a vast transportation fleet and permitted transfer storage and disposal facilities throughout the United States, Canada and Puerto Rico, we provide turnkey reactive material services. 
Reactive Material Services require specialized expertise and diverse techniques to ensure safety and compliance. Clean Harbors deploys multiple approaches to fulfill these goals.
Download Fact Sheet (Reactive Material Services​)
Container Evaluation 
Clean Harbors has standard operating procedures for the proper identification and evaluation of shock-sensitive, peroxidizable and unknown reactive materials. We follow strict evaluation criteria including age, storage conditions, exposure, contamination and stability.
Chemical Stabilization 
Clean Harbors understands the disadvantages of controlled detonation and has developed sound chemical stabilization techniques that enable us to manage the following types of potentially unstable materials (along with others on a case-by-case basis):
Peroxide-forming compounds 
Temperature-sensitive compounds 
Organic peroxides 
Shock-sensitive compounds 
Multi-nitrated compounds 
Azides
Remote Container Opening Procedures 
Our Reactive Material specialists take every precaution and limit the handling of hazardous and potentially unstable materials. We use specially designed equipment for all reactive remediation and stabilization projects, including pneumatically driven machinery that can remotely open a container.
Engineering Controls and Personal Protective Equipment 
Our state-of-the-art engineering controls include devices such as:
Trailer-mounted blast deflection units
Portable remote openers with bomb blanket and safety circle
Custom-designed remote drum openers
ATF Type III Blasters day boxes
Our personal protective equipment protects our employees from high heat, flames and explosions and includes:
Fire proximity suits
Explosive Ordinance Disposal (EOD) protective search suits
Riot helmet, Kevlar® vest, and Nomex® coveralls (standard issue)
Unknown Compound Fingerprint Analysis
Our CleanPack® chemists provide fingerprint analysis for unknown compounds within lab pack-sized containers provided that the materials pass our safety evaluation. If these materials fail the evaluation and are suspected to be shock-sensitive, unstable or reactive, they must be remotely opened and tested before packaging.