Door-to-Door Collection Programs
---
Overview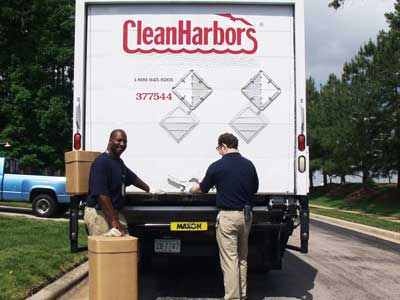 From planning and implementation to materials handling and reporting, Clean Harbors facilitates safe, convenient door-to-door Household Hazardous Waste (HHW) collection events for communities. Door-to-door collection is convenient for residents and extends service to traditionally underserved demographics such as the elderly and homebound residents or people who cannot drive to household hazardous waste collection sites. 
Why Partner with Clean Harbors?
In addition to our unmatched technical and regulatory expertise, Clean Harbors offers other benefits to those organizing door-to-door household hazardous waste collections, such as:
Co-payment collection. Many household hazardous waste collections include a co-payment for each household hazardous waste pickup to help offset program costs. Clean Harbors collects and processes the co-payment, saving you the administrative burden.
Survey administration and reporting. Our staff administers your specially designed program survey either during the pre-screening appointment process or at the point of collection. Data is compiled and presented in report format.
Program reporting. We routinely provide our clients with custom, program-related reporting on areas such as waste collection, program participation, waste management methods and financial data.