Temporary One-Day Collections
---
Overview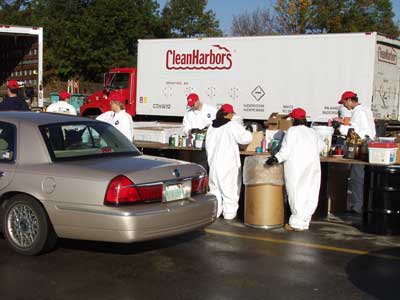 Clean Harbors facilitates temporary one-day Household Hazardous Waste (HHW) collection events that provide convenient access to residents and mitigate the need for a permanent collection facility.
As a service to residents, communities often offer one-day recycling events that allow them to bring a variety of items (paper, plastics, electronics, glass, etc.) to a central drop-off location. Clean Harbors has extensive experience planning and implementing these temporary one-day household hazardous waste collection events. We provide recommendations for the program components and public outreach and then guide you through implementation.
Household Hazardous Waste Collection and Management
Clean Harbors identifies, segregates, packages, transports and disposes of all household hazardous waste material received during a temporary one-day collection event. We offer the latest technology available to maximize recycling efforts and can handle every type of material collected at the event.
Regulatory and Technical Assistance
Clean Harbors supports your temporary one-day household hazardous waste collection event with regulatory assistance at the local, state, provincial and federal levels. We also assist with reporting and provide technical support.
A one-day household hazardous waste collection event provides numerous benefits to communities, and expert assistance from Clean Harbors ensures the event's success.