Overview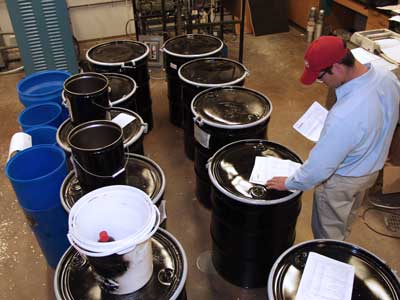 Clean Harbors Drum Waste Disposal Services effectively manage hazardous and non-hazardous waste disposal, regardless of size. Whether it's only a few ounces, 55-gallon drums or cubic yard size containers, our expert teams make sure your waste is efficiently collected and properly disposed, regardless of the waste type.
Our Company-owned fleet services customers with one location or thousands of locations. Regular drum waste pickups guarantee that you ship within regulatory guidelines and stay in compliance.
Online Drum Scheduling – Simple Process, Maximum Results
Save the back-and-forth of phone, fax and email exchanges. With Clean Harbors Online Drum Scheduling, you can schedule a drum pickup 24/7, and our scheduling system provides accurate availability. Once a pickup is approved, customers receive an email confirming their date. You also can track your orders through the same simple online application. 
With a few clicks, you now can:
Order replacement containers and supplies
Select from previously purchased supplies
Filter top-selling items
Print a copy of your drum request
Track your order online
Manage on-site inventory
View manifests and invoices
Benefits
Quicker process for scheduling and organizing shipments
Accurate and reliable selection of replacement containers and supplies
Improved record-keeping providing detail of each drum request
Ease of reporting with all of your records in one place and 24/7 access