Overview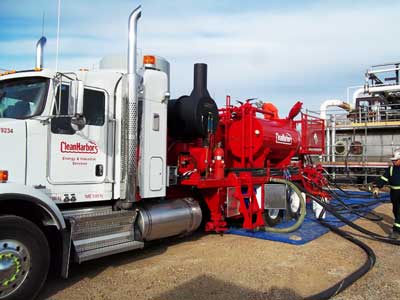 With more than 35 years of experience, Clean Harbors has the expertise and equipment to safely perform any Chemical Cleaning projects.
Our staff is highly skilled at planning and formulating chemical solutions for your cleaning project. Whether in the form of liquid, foam, vapor-phasing cascading or circulation, we incorporate the proper chemistry to eliminate deposits and scaling and maintain the integrity of the system being cleaned. You'll profit from reduced downtime and less process variation.
Chemical Cleaning Treatments
We commonly use the following chemical cleaning treatments:
Alkaline/solvent wash for hydrocarbon sludge removal from process equipment
Acid/chelant treatment for scale buildup on the inside of boiler pipes and tubes or cooling water service
Safe and non-toxic form of enzyme-based cleaning 
Safe and non-toxic form of enzyme-based, steam-assisted decontamination
In addition to performing the cleaning, Clean Harbors can contain, transport and dispose of all waste generated from the chemical cleaning process. In some cases, generated waste can be conditioned on-site during cleaning to meet your on-site treatment needs. This turnkey approach is unique to Clean Harbors and a major advantage for our Chemical Cleaning clients.
Download Fact Sheet (Chemical Cleaning Services)
Chemical Accident Prevention Provisions