Overview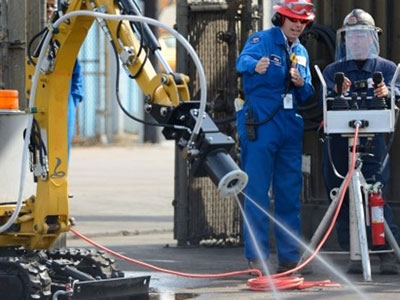 Clean Harbors provides proprietary Hands Free Technologies that substantially increase cleaning efficiency and accuracy, while reducing safety risk, time and cost.
Utilizing robotics, we eliminate the need for traditional hand-held cleaning methods to minimize employee exposure to hazardous materials, high-pressure systems and work place hazards. Our Hands Free Technologies ensure the precise cleaning you need to get your operations up and running faster.
Hands Free Technologies We Provide
Boiler Tube Cleaner
Our Hands Free Boiler Tube Cleaner system cleans radial tubes found in mud drums of package boilers typically found in chemical and petroleum refining plants without the need for an operator to enter the vessel. Delivering up to 50 pounds (23 kg) of push to clear plugged tubes and travel long distances through multiple bends, our Boiler Tube Cleaner system comes with a water/impact resistant camera system to simplify tube indexing by providing an unobstructed view inside the package boiler mud drum during operations.
Sidewinder™
The proprietary Sidewinder remote-operated automated shotgun for hydro blasting uses a multi-directional, high-pressure water cleaning nozzle. With a maximum allowable working pressure of up to 40,000 PSI with variable GPM flow rates and a total reach of 9.5 feet, the Sidewinder can clean from 84 inches high down to 18 inches below grade. The Sidewinder's small footprint, portability and maneuverability allow components to be cleaned inside a process unit or at an isolated decontamination area, such as a hydro blast pad.
Cobra™ and Mini Cobra™
The Cobra provides operators with excellent visibility from a fully enclosed cab while protecting them from the line of fire during high-pressure hydro blasting. The Cobra is capable of handling over 500 horsepower to remove the toughest industrial deposits and fouling. The Cobra's hydraulic arm has excellent flexibility and reach and utilizes a precise rotating head. This device reduces the need for scaffolding, resulting in time and cost savings.

The Mini Cobra is a diesel-powered, rubber track-driven hydro blast robot that is perfect for accessing tight work areas. The operator controls the Mini-Cobra's five axis mechanical arm, high-pressure water flow and vehicle motion from a portable remote control station. It can also be fitted with attachments to perform tasks other than hydro blasting, such as abrasive blasting, hydro excavating and industrial vacuuming.
Viper™
The Viper system gives Clean Harbors the ability to flex lance customer process equipment completely hands free. The Viper attaches to an anti-withdrawal device that securely attaches the flange to the face of the exchanger unit and prevents it from withdrawing during the cleaning process. When activated, the Viper operator remotely fires a high-powered stream of water through a flex hose to clean the entire length of each tube in the exchanger, removing deposits and other buildup from the tube walls.
Rotating Hose Device
The portable Rotating Hose Device (RHD) is used in conjunction with a high-volume pump to clean lines and piping. The system is made up of a portable hydraulic power pack, a rotary union drive and the rotary hose drive. The RHD unit allows the hose to be rotated, as opposed to depending on rotating nozzles. The feed rate and rotation can be controlled for more consistent cleaning, and due to its size, the RHD has the ability to maneuver around several 90-degree bends.
Boiler Botsm℠
Power plants require access to the safest, most innovative resources to stay online and operating at peak levels. The track-mounted Boiler Bot is a compact high-pressure water cleaning technology, that makes the interior cleaning of your boiler's back passes and economizers safer and highly efficient, saving you time and money.
Cyclops™
The Cyclops is one of the most comprehensive tools for boiler cleaning and utilizes a high-temperature camera that accurately inspects the inside of your boiler and other areas of your plant while they are online. Inserted into various observation openings, the Cyclops serves as your "eyes" inside, helping to precisely determine what type of maintenance and the intensity of cleaning is required. Camera images of the inside of your boiler are transmitted back to a monitor for viewing by our team and yours.