Outage and Turnaround Services
---
Overview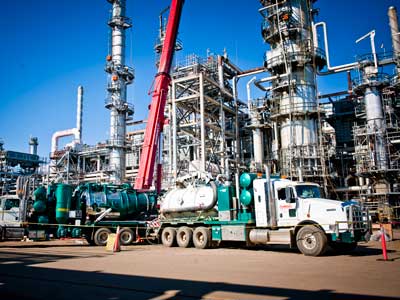 Clean Harbors Outage and Turnaround specialists provide industrial cleaning during planned or unplanned shutdowns of a process unit or plant to perform maintenance, overhaul and repairs.
Outages and shutdowns disrupt production and affect your bottom line. But Clean Harbors has the manpower, expertise and equipment to get your process or facility back up and running in the shortest possible time, within budget and without incident.
Our Outage and Turnaround Services
Vacuum services
Internal pipe inspection
High pressure services (hydro jetting, hydro blasting, etc.)
Condenser and heat exchanger tube cleaning (hydro lazing)
Chemical cleaning
Pipe cleaning and removal
Boiler cleaning
Pigging and decoking
Waste disposal
Why choose Clean Harbors? We leverage our extensive experience, skilled staff and vast equipment inventory to provide the quickest, safest and most effective outage and turnaround services possible.
Download Fact Sheet (Outage and Turnaround Support Services)