Overview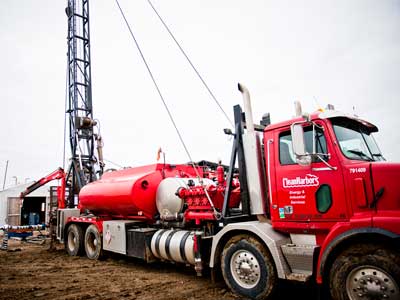 Clean Harbors significantly improves oil and gas well production through expert flush-by techniques.
Oil wells can become clogged due to solids trapped below. In addition, rods may break due to a number of environmental factors. Quality of production can be severely reduced, slowing projects down to a near halt. To safely and effectively repair these critical issues, businesses need experts with successful methods to keep production moving forward.
Clean Harbors Flush-By Services significantly improve well production by carefully repairing rods and properly flushing away debris embedded within the wells. With a set of high-level troubleshooting methods, Clean Harbors can efficiently resolve problems ranging from damaged pumps to tubing strings.
Working with your core team, Clean Harbors can provide value-added features such as: 
Conventional and slant well capabilities
Flush-by units equipped with "man-rider winch" personnel hoisting equipment 
Two rod BOPs for stripping and well control 
Clean Harbors Flush-By fleet includes:
Tandem tri-drives
Tandem tandems
Tandems 
Clean Harbors can ensure your production sustainability at its highest capacity.