Large-Scale Waste Removal and Disposal Projects
---
Overview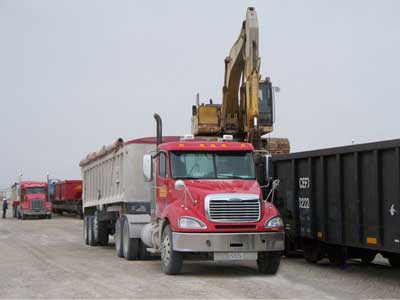 Clean Harbors is equipped to handle all aspects of large-scale waste removal and disposal projects.
Clean Harbors provides off-site transportation, landfill and incineration disposal services for soil and other contaminated media from remediation activities. We also can assist contractors and project managers with support services including groundwater disposal, investigation derived waste (IDW) disposal, rolloff container management and many other services.
Our portable truck-to-rail services provide the most economical and safest method of overland bulk waste transportation. Our custom truck-to-rail loading ramps make it much easier to manage material shipment from your project site to a Clean Harbors treatment and disposal facility.
Waste Types Handled 
RCRA hazardous waste 
Listed hazardous waste 
TSCA, RCRA/TSCA and CERCLA waste (including Mega-Rule) 
Non-hazardous waste 
Halogenated VOCs and non-halogenated VOCs 
Halogenated SVOCs and non-halogenated SVOCs 
Inorganic waste 
Reactive waste 
Petroleum contaminated waste 
Explosives