Ultrasonic Cleaning Technology
---
Overview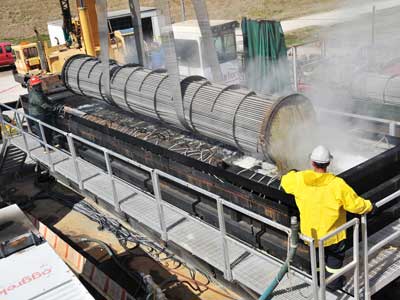 Clean Harbors is the exclusive North American provider of Ultrasonic Cleaning Technology for the oil, gas and petrochemical industries. 
Cleaning and maintaining the metal equipment in an industrial facility is a daunting task with serious bottom-line implications. With this in mind, Clean Harbors offers Ultrasonic Cleaning to remove heavy and light bitumen, tar, asphaltenes, polymers, grease and other petroleum products from metal items through immersion in a scientifically engineered ultrasonic tank. Clean Harbors provides mobile tanks for turnarounds and offers long-term lease tanks on customer sites. 
Advantages of Ultrasonic Cleaning
Removes all forms of hydrocarbon contamination and refinery grade by-products.
Cleans process-critical components and equipment once deemed not cleanable.
Performs services in a fraction of the time required by conventional methods.
Uses less water and produces less wastewater than high pressure cleaning.
Does not create metal degradation.
Minimizes safety concerns inherent with high pressure cleaning methods.
Clean Harbors makes all of these Ultrasonic Cleaning advantages a reality for our clients in the oil, gas and petrochemical industries.